PROJECT HOGAR SAN VICENTE DE PAUL - Fashion Show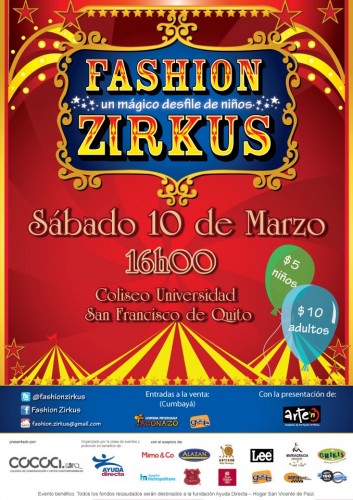 During the first half of 2012, the University of San Francisco de Quito promoted charitable activities. The funds raised will be donated to the orphanage San Vicente de Paul of Quito.
As part of these activities, on March 10 there was a fashion show for children that was organized by a group of students from the "Clase de Eventos y Comunicación y Protocolo the Colegio de Artes de la Contemporáneas USFQ."
The event, which was attended by a large audience, was well received and the children were applauded as they walked. Numerous national artists also contributed to the charity, including the talented Valentina Lopez (www.valentinalopez.net/), the Arab dance group of the University, Arte'n 3 (www.artentres.com/) and TV presenter Patricia Teran.
Ayuda Directa would like to thank all the people who dedicated themselves to the realization of this event.
More information:
www.facebook.com/events/101823809948327/?ref=ts#!/events/101823809948327/