Miraloma Medical Team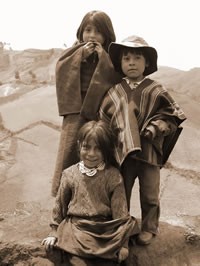 LOCATION: Miraloma (Tzalaron) - Chimborazo Province
DATE: June 6, 2003
AREA OF INTERVENTION: health and prevention
SERVICES OFFERED: general medicine, dentistry, and gynecology
THIS MEDICAL PERSONNEL
• a general physician
• two midwives
• a dentist
PATIENTS VISITED
• 150
NOTES: Miraloma is a village situated at 3,350 meters above sea level and about an hour from Riobamba, the capital of the province of Chimborazo. The medical team was made possible by the collaboration of doctors and the rural community, who coordinated the work with representatives of the Council of the community.
As usual, the medical examinations revealed problems related to lack of hygiene. Vitamins and pesticides were administered to each patient.
All patients were asked to donate 25 cents for their medical examinations and medicines. The money raised with these small contributions benefitted the local elementary school by funding the purchase of educational materials.